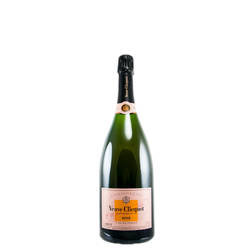 Veuve Clicquot Rosé Jeroboam (3 Liter Bottle)
From the Maker:
A beautiful orange-pink hue with copper highlights leaving a lively and persistent effervescence, this Widow Clicquot But Rosé in case will seduce more than one. A nose opening especially on aromas of red fruits. A fruity and freshness combining perfectly to offer a deliciously harmonious mouth. So many arguments that will delight lovers of the brand and all lovers of rosé champagnes!
Champagne Veuve Clicquot Rose with fresh aromas of red fruits, dried fruit biscuits and Viennese pastries. The perfect combination for any occasion.
About the Maker:
Veuve Clicquot, now one of the largest Champagne Houses, was founded in 1772 by Philippe Clicquot under the label "Clicquot". After establishing the brand throughout Europe, Russia and the United States, Philippe was joined by his son, François Clicquot, at the head of the House in 1798. Seven years later, following his untimely death, François' young widow, Barbe Ponsardin, took over the family business at just 27 years old. The House would subsequently be renamed in her honor: 'Veuve Clicquot' means 'The Widow Clicquot.'
Additional Info:
| | |
| --- | --- |
|  ABV: | 12% |
| Grape: | 50-55% Pinot Noir, 28-33% Chardonnay, 15-20% Pino Meunier |
| Dosage: | 10.0 g / L |
| Origin: | France |
| Barcode: | |
| SKU: | 1079410-VUE |